History of Supreme: Why is Supreme so Popular?
Supreme is a clothing brand that has had a huge impact on the street and skate wear scene since its establishment in 1994. It has risen to become one of the most popular and highly demanded brands in the world and is worn by celebrities - especially in the music industry - and pro skaters. Supreme manufactures t-shirts, shoes, jackets, hoodies, sweaters, skateboards and all sorts of accessories.
History
Supreme started as a small store that was founded in 1994 in New York City, America by James Jebbia, an American entrepreneur who grew up in England. Its first store was located on Lafayette Street in downtown Manhattan and catered to skateboarders. Over time, Supreme gathered a cult following, and soon enough, other people from the hip-hop and punk rock cultures gravitated towards the brand, leading to a its surge in popularity.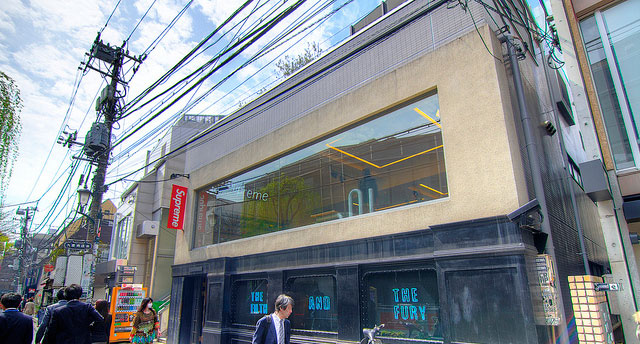 Supreme store in Tokyo. by demxx
Today, Supreme has over 10 stores located worldwide that match the theme and style of the original store on Lafayette Street. The stores are located in California, Tokyo, Nagoya, Fukuoka, Osaka, Paris and London.
Popularity
The demand for Supreme's products has led many people to camp outside their stores, waiting for the next t-shirts, shoes or skateboards. People enjoy Supreme for its high-end products, uniqueness and originality, making Supreme more than a clothing brand but a lifestyle choice. A few factors have contributed to Supreme's continued rise in popularity, mainly celebrities, fan base, limited releases and collaborations.
Limited Releases
Supreme has always released their products in limited quantities, leading to a high demand. This sets them apart from other companies and makes people wearing their clothing feel more unique. In fact, most of Supreme's t-shirts, shoes and skateboards have become high-valued collectibles by collectors and artists because they specialize in limited releases.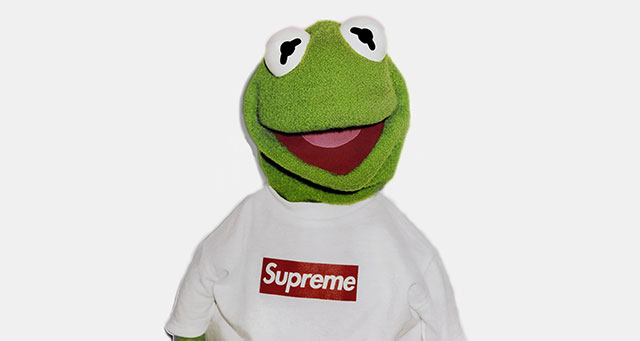 One of the most popular celeb campaign for Supreme -- Kermit!
Worn by Celebrities
Supreme remains popular due to the simple fact that various celebrities have been seen wearing Supreme clothing in public on numerous occasions. Supreme Clothing has been worn by notable celebrities like Wiz Khalifa, Lady Gaga, Iggy Azalea, Kate Moss, Kanye West, Pharrel Williams, Frank Ocean, Kid Cudi, Skepta, Lily Allen and ASAP Rocky, among others.
Word of Mouth
Supreme doesn't mostly rely on big splashy marketing campaigns for their fans to catch wind of their latest products. In fact, Supreme use their loyal fan base to their advantage by giving them some "leaked" information about their upcoming products. This creates excitement in the Supreme community through word of mouth, sending hundreds of fans to their stores and website to purchase their high-quality releases.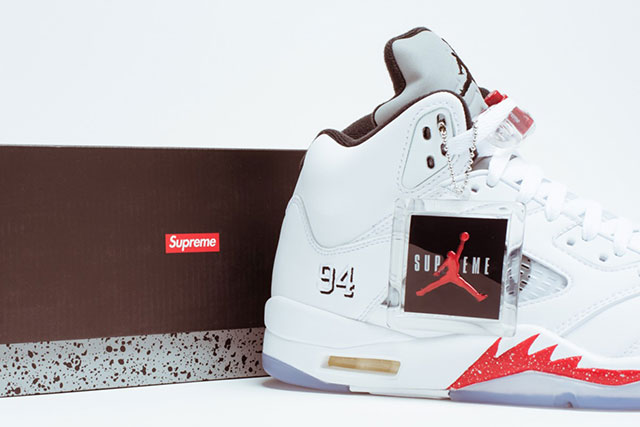 Supreme and Air Jordan collab for the sneakerheads.
Collaborations
Supreme mostly manufactures their own products, but every now and again they delight fans and grow new ones by collaborating with artists, designers, photographers, musicians and other brands. The end result is usually stunning pieces that send the fashion world into a frenzy. The Supreme collaborations begun in the early 90's when they collaborated with Vans by customizing some shoes. Since then, the Supreme has collaborated with the likes of George Condo, Adam Kimmel, Terry Richardson, Neil Young, Nike, Hanes, Timberland and Playboy, among others, producing a variety of products from t-shirts and socks to shows and skateboard decks.